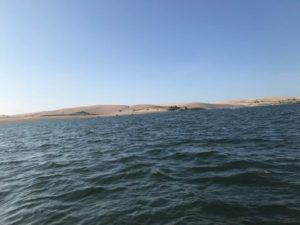 Thanks for visiting the Silver Lake United Voice website!
Silver Lake water quality is declining as seen in years of scientific study. These studies show that the phosphates and nitrates from area septic systems leaching into our lake are a significant source contributing to the declining health of Silver Lake. The most recent potential community sewer system solution proved too costly and was not supported by the majority of property owners, and was voted down in the Spring 2019. The issue of the declining water quality of Silver Lake needs to be solved. State and Federal guidelines DO NOT PROTECT our lakes and waters. The protection of Silver Lake needs to happen on a more local level. This is where Silver Lake United Voice (SLUV) comes in!
Silver Lake United Voice (SLUV) was organized by Silver Lake property owners and encouraged by members of the Golden Township Board to find a common sense way to protect Silver Lake's environmental health.
What is the issue?
In Michigan, septic systems don't need to be (legally) inspected once initially installed.
This lack of oversight has caused 100% of our rivers/lakes to contain human fecal contamination.
Phosphate and orthophosphate when combined with nitrogen cause algae blooms in Silver Lake. The algae sucks up all the O2, leaving little to no oxygen for aquatic plants and fish.
Silver Lake United Voice began in the Summer of 2019
Here's our original presentation from the SLUV organizational meeting in July 2019.
What is the SLUV intent and purpose?
We strive to make changes that are positive, not punitive or financially burdensome for property owners, businesses and local government.
We strive to educate property/business owners on smart septic maintenance and how a simple addition to your current septic system, called an aerobic treatment unit (ATU), can help improve the Silver Lake water quality.
We strive to improve the environmental health of Silver Lake by working closely with Restorative Lake Services to come up with a solution to make our lake healthy again – improve Silver Lake's water quality.
We strive to maintain open lines of communication and transparency with all residents.
What is our goal?
To work closely with Golden Township to revise the current unenforceable Septic Ordinance.
To draft and present a revised an enforceable Septic Ordinance to Golden Township and implement this Ordinance by 2022.

The proposed changes are:

Mandatory inspection of septic tanks every five (5) years,
If your septic system is within 200 feet of a body of water, you will be required to add an ATU (Advanced Treatment Unit) onto your existing septic system. (current code call for within 100 feet of a body of water.)
Mandate enforcement of septic system maintenance/upgrades (defined by possible replacement of septic systems if it fails inspection and/or addition of an ATU on the current system).
Please visit the various pages of our site to become acquainted with SLUV's efforts, including the FAQ page which contains great information as well!
A valuable document explaining the issues we are confronting can be found in The Septic Question. This document was an effort of the Health Department of Northwest Michigan and Tip if the Mitt Watershed Council on behalf of the Septic Question Project Committee in 2016.